It is Saturday morning and you are jonesing for a great breakfast and don't have any food in your place. Don't know where to go? I have three reviews of restaurants in Sacramento, California that will make your mouth water and tummy rumble.
bacon & butter. Okay, just the name speaks volumes. Who doesn't like bacon and butter? Their style is California farm to table. They shop local farmer markets to buy the freshest food for the season.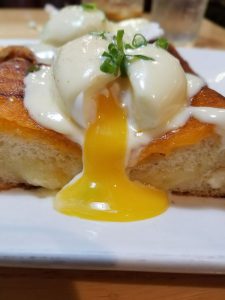 Located in the Tahoe Park neighborhood of Sacramento, CA, they specialize in breakfast, brunch and lunch. The meats they choose are from humanely raised, sustainable meat providers. Their Executive Chef and owner is Billy Zoelin. Chef Zoelin has been featured on the Food Network, studied culinary arts at American River College training under some of the greatest chefs in the Sacramento area.
Just because the name is bacon & butter it does not mean that there is bacon and butter in every dish. Chef Zoelin will do a variety of dishes including vegetarian and lighter plates.
bacon & eggs rates a 4 ½ stars in Google reviews With over 2300 reviews that says it is an excellent place for breakfast. Some of their craft dishes include berry flapjacks – buttermilk batter, strawberry, blackberry, blueberry, lime and whipped cream. chicken & waffle's! Belgian buttermilk waffle, fried mary's chicken breast, mission fig, serrano chili and shishito pepper.
Maybe breakfast isn't their thing, they have a "lunchish" menu where you can get smashed fries in bacon gravy or the b&b burger – Storm Hill beef ground with bacon, Petaluma jack, shallot rings, smoked aioli, bacon, brioche, arugula, fries or salad. Or tried some of their fresh baked sweets like a cinna roll, bacon & chocolate chip cookie.
No wonder Blair Anthony Robertson from the Sacramento Bee was quoted "The menu and the cooking are robust, the food is unlike anything else in town, loaded with color and a multitude of flavors – and it is still decidedly part of that Sacramento farm to fork ethos."
The Waffle Experience gives you a new reason to love waffles. They use only the freshest ingredients so you can experience and amazing culinary experience.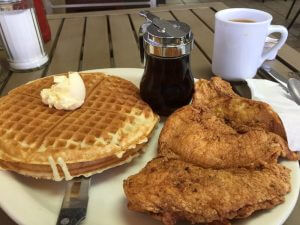 Did I mention the coffee? They look for fair trade, fresh, organic beans from sustainable farms. The source is Liberty Coffee Roasting Company. Brewed fresh so you never get "burned" coffee.
Served any time of day you can choose Jimmy's a Greek – cage free egg, feta, Kalamata olives, savory onion jam, dolmades, arugula, tomatoes, basil pesto, sundried tomato pesto, balsamic drizzle, fresh herb waffle. The Benedict Arnold uses house cured Canadian bacon, cage free egg, kale, apple compote, chive grain mustard, hollandaise on an apple infused waffle. Or the Praise the Lord with house braised pork belly, cage free egg, arugula, roasted tomato, ricotta, cracked pepper agave syrup, lardon studded herb waffle.
Their "Two Hands Required" meals will make you drool. The Babe has grass fed natural beef patty, BBQ pulled pork, Cherrywood smoked bacon, white cheddar, onion rings, shaved jalapenos, arugula, chipotle aioli on a lardon studded herb waffle. For a change try the Sacramento King with house smoked salmon, hard-boiled egg, arugula, cucumber, shaved onion, caper crème cheese on a cracked pepper herb waffle.
Bring your kids because they understand kids like yummy things like the Mr. Carter which has a wee waffle with peanut butter and seasonal crème cheese.
With over 4 ½ stars in Google reviews you can be assured that the over 2,000 people who have made a post left The Waffle Experience in Sacramento, CA with a satisfied tummy and taste buds.
Sarom's Southern Kitchen says it all. Who can pass up a southern kitchen for breakfast? Serving items from barbeque, ribs, chicken, waffles and more.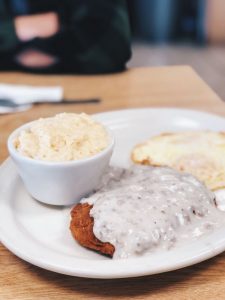 They have four stars for their reviews with over 700 reviews. Their business hours are 7am thru 3pm Monday through Friday and 7am thru 4pm on Saturdays and Sunday.
The owner, Sarom Doeuk, is a Cambodian cook-business women who formed her love for cooking at a young age. She has owned several donut shops but changed her direction when her daughter visited the South and challenged her mother to learn southern cooking.
Her Southern-style cooking features barbeque, delicious homemade desserts, jambalaya, chicken and waffles, St. Louis spareribs and gumbo.
Located on El Camino in Sacramento, CA, Sarom's Southern Kitchen is a favorite of the locals. When you order one of their Three Egg Omelettes don't forget to add the Cheesy Grits or their Country-Style Potatoes. You won't be disappointed.
These reviews are sponsored by http://washingtondchoodcleaning.com